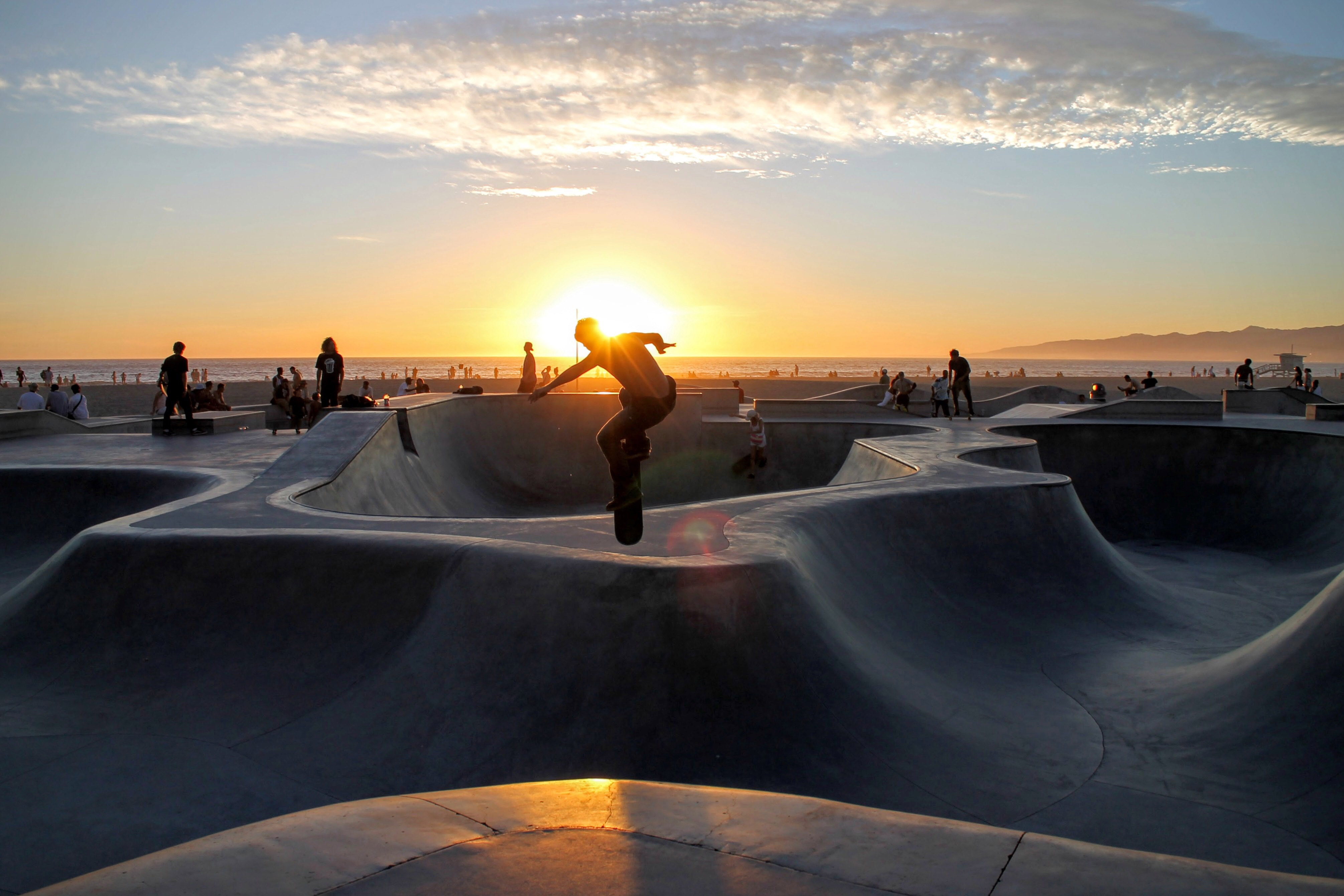 That's my son about to unfold a Christ Air into the sunset. In his dreams.
Going to a skate park is number one on my boys' list whenever they are asked what they would like to do. We are fortunate to have 3 pretty awesome parks around us. The one above, overlooking the Pacific Ocean, sadly is not one of them.
My two boys love their bikes, scooters, and rip-sticks. They are pretty fly on those on a skate park, no pun intended. Their excitement mounts tangibly after we park as they retrieve their wheels and put on their helmets.
But I've found that there's a darkside to all this, again, no pun intended (the darkside is the bottom side of your skateboard 🙂 ). See, my guys are 'groms' or 'grommets'. In other words, they are 'ams', that's newbies for those looking at me cock-eyed. They don't have very fancy moves yet. The goal is to become a 'sick ripper'. This is risky business so you must avoid slams which could have deleterious outcomes such as a 'swellbow'.  Another important goal is not to be a snake, i.e. a person that cuts other people off.
The older kids at the park make me think of swaggering young bucks sprouting horns. They dominate the park with their glorious moves, and worse, with their attitudes and crude language. We learned pretty early in our skate park career that they love to hear themselves talk. It's very strange to me to hear expletives coming from young mouths. They seem to be trying it on for size and coolness. They overuse  it and try to outdo each other.
It also bothers me at some deep level. A few years ago, I told my boys what the main cuss words in the culture were and what they meant. I also made it abundantly clear that they were not to use them. There was no need for them and there were many, many alternative words to express oneself.
I am curious to hear various adults' approach to this problem (if you consider it a problem) in public. Please weigh in and share how you do or would handle handle kids swearing in public, particularly in the absence of their parents or responsible adults. I am particularly interested in more creative approaches than glaring at them or banging their heads together.
photos retrieved from:
1. goodfreephotos.com/united-states/california/los-angeles/skate-park-by-the-ocean-in-los-angeles-california/jpg.php on 10/16/2017
2. https://www.dreamstime.com/stock-photo-young-buck-deer-nub-horns-black-eyes-wet-nose-brown-white-fur-image58792408 on 10/17/2017
https://dailypost.wordpress.com/prompts/risky/