Here's my current understanding of the dream in the previous post:
I live in the country, so my house being in a subdivision is an oddity. Look for those in dreams.
Consider proximity as a concept, given the current times.
The house on the right is marked by panic and furtive, unsuccessful attempts at self-protection. A colony of bats in a well-lit house is another oddity.
2. My gut response to bats is negative – dark, spooky, dirty, vampires, Halloween, haunted, unclean, disease-ridden (sometimes called "flying rats") etc. I did a little reading up on them and was utterly fascinated. (https://www.nps.gov/subjects/bats/benefits-of-bats.htm)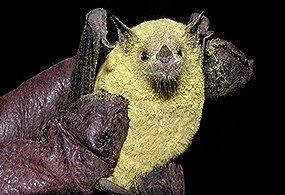 This NPS photo from the article above shows a lesser long-nosed bat covered with pollen.
I've never seen anything like this little guy. They are master pollinators – just fantastic! They gobble up tons of harmful insects and help make our life a little more bearable. They play a crucial in maintaining the delicate ecosystems of caves. They are prey and feed numerous species, including humans. Consider that, given our current times and the origin of Covid-19.
3. The silver truck between the road and the house caught my attention. It was parked so precariously that it would have been very easy to tip. We know that silver represents wealth and prosperity. Trucks provide transportation, independence (the ability to get up and go wherever you want, whenever you want), they are a practical way of carrying cargo from one place to another, and they can be a sign of pride and prestige (I can't get over how many country music songs there are about trucks). Consider the current precarious state of our world's economy.
4. The house on the left is marked by these awesome ladies laughing it up. I want to be over there coz I have FOMO (fear of missing out) and a good time is happening without me. Hustle, Hannah! The silver truck is backed into the driveway of the house, meaning it's ready to go. It's stable.
5. I'm standing at the doorway of the house on the right. Bats start flying out. As Jodi mentioned in the dream comments, it's pretty unusual for them to fly into things thanks to their amazing super-power of echolocation. It is absolutely astounding. Echolocation is their was of perceiving, navigating, and responding to the world.
What is our perception of the current situation? Are we tackling it by faith or by fear? If by fear, we are going to smack into things and be in places we have no business being. No matter how close the pestilence gets to us, we are not to fear. We are to resist the urge to scream and freak out. We have the shield of faith and God's incredible promises of protection. Here are a few favorites:
So do not fear, for I am with you;
do not be dismayed, for I am your God.
I will strengthen you and help you;
I will uphold you with my righteous right hand.
(Isaiah 41:10).
For I am the Lord your God
who takes hold of your right hand
and says to you, Do not fear;
I will help you.
(Isaish 41:10).
What gems! As my father-in-law would say, "Put that in your pipe and smoke it!" And that's just from one chapter. Memorize those and use them to encourage yourself and others.
I don't understand the sudden turn of events in the dream. Is it about the outcome of the disease? Is it a reflection on how different entities are handling this crisis? I don't claim that it's prophetic. I don't know how things will turn out for us all. All I know is we are in a world of hurt but there is One who has the power the stay the plague. Living with the fear of Covid-19 is not the worst plight. Dying of Covid-19 is not either. Dying without Jesus is. May what initially seems like a horror turn out to be a great blessing, in ways we could never imagine. May our souls remain on stable footing when all around is being shaken. As C. S. Lewis said,
"pain insists upon being attended to.
God whispers to us in our pleasures,
speaks in our conscience,
but shouts in our pains:
it is HIS megaphone to rouse a deaf world."
What else do you see here?