A meditation on Psalm 36.
Sin speaks. Anyone can hear it if they listen. It speaks to the sinner and it speaks to the righteous. "The transgression of the wicked saith within my heart, that there is no fear of God before his eyes," Ps. 36:1. Spurgeon says, "Men's sins have a voice to godly ears." The evil man has no fear of God. That is the underlying characteristic of his life. Paul picks up this truth in Romans 3:18 after he outlines the deeds of sinful man: "There is no fear of God before their eyes."
Commentator Morgan teaches, "The description of the evil man is graphic. He has by some means persuaded himself that God does not interfere with men. Consequently he has no fear of God, enthrones himself at the centre of his own being, and goes in the way of wickedness in thought and in action."
Paul instructs us, "For I say, through the grace given unto me, to every man that is among you, not to think of himself more highly than he ought to think; but to think soberly, according as God hath dealt to every man the measure of faith," Romans 12:3. Yet what does the wicked person do? "For he flatters himself in his own eyes, when he finds out his iniquity and when he hates," Ps. 36:2.
He is neither surprised nor appalled by iniquity in his heart. That and hatred contribute to his self-elevation. "The words of his mouth are wickedness and deceit; he has ceased to be wise and to do good. He devises wickedness on his bed; he sets himself in a way that is not good; he does not abhor evil," vs. 3, 4. Out of the fullness of his wickedness heart, his mouth gushes further wickedness and deceit. Even when he is at rest, all that swirls in his mind is evil. And when he has rested and is ready to take on the day, he steps onto an evil path. He does not abhor evil – he relishes and harbors it. Every single aspect of it thrills him: the conception, the outworking, and the outcome of it.
Guzik quotes Spurgeon, "He had not God before his eyes in holy awe, therefore he puts himself there in unholy admiration. He who makes little of God makes much of himself. They who forget adoration fall into adulation. The eyes must see something, and if they admire not God they will flatter self."
David changes topics suddenly as though to say, "But enough of those men already. Let's dwell on something better." I picture David in the wilderness coming upon a favorite high rock with a sweeping, majestic view of the sky above and grand, mysterious canyons below. His heart wells up within him and he cries, "Your mercy, O Lord, is like the heavens; your faithfulness reaches to the clouds. Your righteousness is like the great mountains; your judgments are a great deep; O Lord, you preserve man and beast," vs. 5, 6. Any and all grandeur he sees, is a selfie of God and his goodness.
"How precious is Your lovingkindness, O God!" v. 7a. David not only fears God but greatly esteems and cherishes him. God is of great value in David's eyes, unlike the wicked who despise him. "Therefore the children of men put their trust under the shadow of Your wings," v. 7b. What a wonderful picture of security and comfort. Yet it is dark there and we must be still. Might dark, immobilized times be God sheltering us in the shadow of his wing? Like little chicks we might tire and desire to poke our heads out and see what's happening, but we must trust Father hen to lift up when the coast is clear. Not whenever we are ready to resume our play.
"They are abundantly satisfied with the fullness of Your house, and You give them drink from the river of Your pleasures," v. 8. What decadence! God is not handing out matchbox size blessings. Look at those words: abundance, satisfaction, fullness, river of pleasures! They are drenched, saturated, intoxicated with blessings. Fullness is translated as fatness. Picture a gorgeous juicy steak. Consider the careful animal husbandry that tends to cattle in tranquility and fattens them at the end for slaughter. The word drink has to do with irrigation. How painstakingly the farmer lays out pipe before connecting the irrigation water to reach the whole crop. While God does not tire, he expends himself for us. He is as a host who knocks himself out for the pleasure of his guest, he floods him with pleasure.
We were created for pleasure – God's pleasure. The elders in heaven throw their crowns at God's feet and say, "Thou art worthy, O Lord, to receive glory and honour and power: for thou hast created all things, and for thy pleasure they are and were created," Rev. 4:11. In his lovingkindness, he extends that pleasure to us as we walk in his ways. Rivers of it. With no regrets. I think of our pleasure neurochemicals – oxytocin, dopamine, endorphins, and others. As we learn to love him and is ways, we delight in these glorious chemicals in ways that bless us, unlike addictions that hijack and flood our systems with dangerous levels.
"For with You is the fountain of life; in Your light we see light," v. 9. Fountains are a wonderful thing. They are a source of quenching, cleansing, and irrigation. They bring out the child in us and evoke playful squeals of glee. God wants that for us and is our all-purpose fountain of pleasure.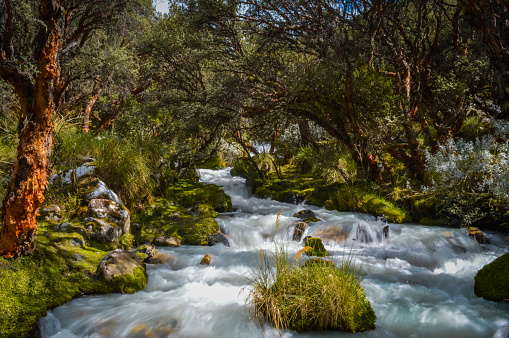 David leans back on the warm rock in satisfaction, a smile on his face as a nap creeps in. "Oh, continue Your lovingkindness to those who know You, and Your righteousness to the upright in heart. Let not the foot of pride come against me, and let not the hand of the wicked drive me away. There the workers of iniquity have fallen; they have been cast down and are not able to rise," vs. 10-12. The righteous man may fall seven times, but he rises up (Prov. 24:16.) Not so the wicked. They will fall, never to rise again. And God's lovingkindness to those who fear him will flow and flow and flow…